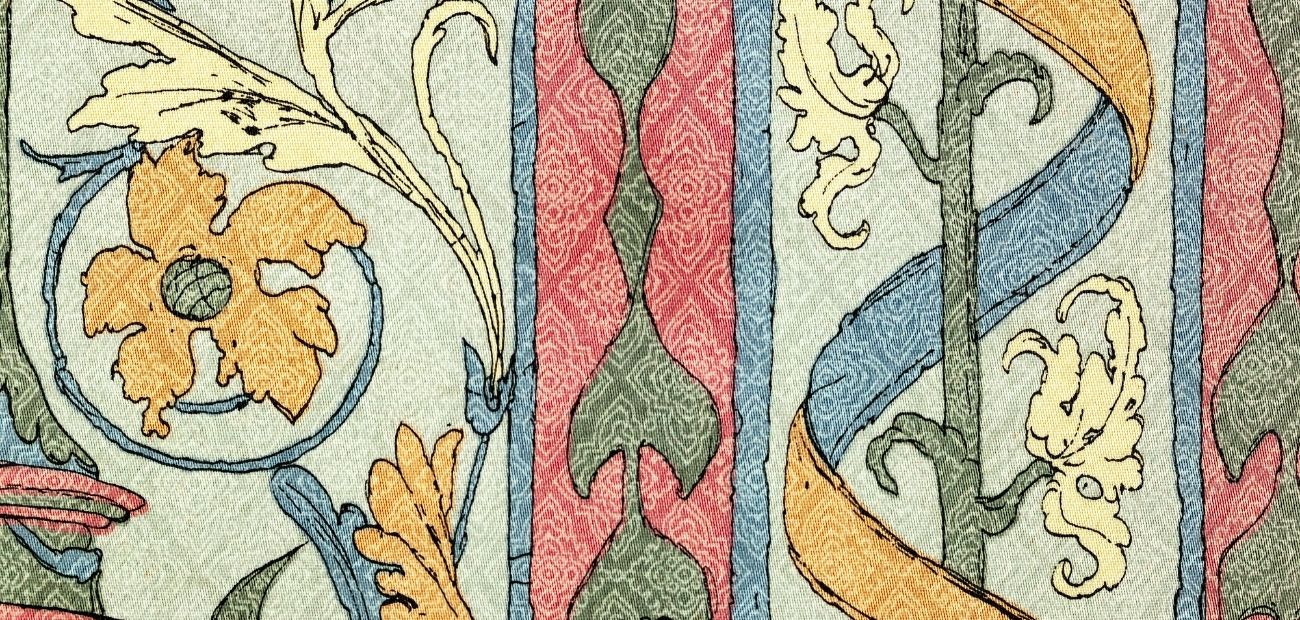 A BRIEF HISTORY OF WALLPAPER: WHERE IT STARTED & WHERE IT'S GOING
Have you ever wondered about the history of wallpaper? In particular, when wallpaper became a "thing" and why? In order to answer this question, we have to go back in time to explore the history of wallpaper and, in particular, when wallpaper first become popular – in fifteenth-century Europe. Ready? Here we go!
During the fifteenth century, it was common for the wealthiest of the wealthiest individuals to have expensive fabric tapestries hung on their walls. From a practical point of view, these fabric tapestries added a layer of insulating warmth to the walls of homes (an important thing back in the day when homes weren't nearly as protecting to the elements as they are today!). Practicality aside, these tapestries were most often installed for the beauty they possess. In particular, it was common for pictures of historical events or stories to be hand-sewn and woven into the fabrics of these tapestries making them stunning works of art symbolizing power and wealth. I think we can all agree that these tapestries were extremely labour intensive (and included expensive products to produce), making them out-of-reach for those in the middle-class.
That is, of course, until wallpaper was created. And, that is exactly why wallpaper was created – so that individuals with shallower pockets could mimic the expensive and luxurious wall coverings that lined the walls of the homes of the most elite individuals. After all, where there is a need, there will be demand. And where there is demand, a supply will start. So, long story short, wallpaper was born and the history of wallpaper began.
To begin with, the earliest wallpapers were black and white, however, over time, they started to include more colour and even started to include painted pictures of animals, birds, nature, and historical scenes. Although at the beginning these images would have appeared quite flat to any onlooker, the desire to make these scenes appear more like the hand-woven tapestries owned by the wealthy, a new approach was adopted to paint the scenes/images to look 3D to anyone looking at the wallpaper. Then, the desire to mimic the tapestries of the wealthy was taken one step further when bits of sheep's wool was dyed and added to the wallpaper to give the actual feeling of texture to the wallpaper. Obviously, with this level of detail needed in production, wallpaper was still somewhat of a luxury item and unattainable for most. That is, of course, until the next stage of the history of wallpaper – the late seventeenth century – when wallpaper started to be mass-produced using a machine and printed by the roll. This lowered the cost of the wallpaper substantially, making it affordable for the masses and readily available since it no longer needed to be done by hand.
The history of wallpaper and the evolution within continues. By the mid-twentieth century, PVC-vinyl became the most popular material to use when producing wallpaper. Why? There are many advantages to this material – it is soft, durable, easy-to-clean, affordable, etc. Unfortunately, though, as time went on and PVC was further examined, it also was found it brought a lot of dangerous characteristics. In fact, according to Green Peace, "PVC is the most environmentally damaging plastic. The PVC lifecycle — its production, use, and disposal — results in the release of toxic, chlorine-based chemicals. These toxins are building up in the water, air, and food chain. The result: severe health problems, including cancer, immune system damage, and hormone disruption. No one can escape contamination: Everyone everywhere has measurable levels of chlorinated toxins in their bodies."
The worst part? Despite these well-known facts about PVC, PVC-vinyl wallpaper is still a prominent ingredient in most wallpapers and wallcoverings offered on the market today.
That's where we come in. Hello Sticky's Peel & Stick wallpaper is free of PVC-vinyl. And, that's not all. Our wallpaper is made using LEED-certified and ATC-certified materials and GREENGUARD Gold-certified inks (which means that they have been deemed safe for indoor use because they meet strict chemical emissions limits and have been tested for more than 10,000 chemicals). As well, our removable Peel & Stick wallpaper has not only passed the 3.1 Living Building Challenge Red List but also has a Class 1 (Type A) FR Rating. More good news? Our removable wallpaper contains no formaldehyde, no VOCs, and is recyclable at the end of its life. After all, we care about your health and the health of our environment (while still allowing you to have a stunning home filled with gorgeous wallpaper prints!). To learn more about our sustainable business practices (and why they are so important to consider when you are looking for the best wallpaper for your home) check out our blog, "Where Sustainability Meets Style".
Now that we have that out in the open, are you looking to learn more about the history of wallpaper? Check out Annette K. Stelmack's book, "Sustainable Residential Interiors" or Talaria Enterprises' incredibly informative website. Happy reading!
So, what are you waiting for? Take a browse through our sustainable wallpaper options below! Easy on the eyes, easy to install (and remove!) and easy on the environment/your health. What more can you ask for?